Core Competencies
The Leaping Catch LLC founder and principal, Sandra Clements, PhD, has 29 yrs imaging experience including eleven years serving NASA's engineering imagery community.

Experience-based knowledge of engineering imagery as a tool for examining launch vehicle performance, for examining ground system equipment performance, and for debris and anomaly detection
Ground system imagery asset configuration planning
Familiarity with the NASA engineering imagery community - worked with Image Analysis Teams, Imagery Working Groups, ICE Team, Lift-Off Debris Team, Imaging Operations
Knowledge of the latest imaging system technologies and techniques (See examples below.)
Technical writing - reports, presentations, special studies, specifications, test plans, proposals
Projects / Activities (Sandra Clements, PhD)

NASA 2011 Phase II Small Business Innovation Research (SBIR) contract - Principal Investigator
NASA 2011 Phase I Small Business Innovation Research (SBIR) contract - Principal Investigator
NASA Ground Camera Ascent Imagery Project (GCAIP) - Lead Scientist
GCAIP Long Lens Specifications / Acceptance Testing
Imagery System configuration Planning Tool - Developer
NASA KSC Experimental Imaging Lab - Lead and Technical Lead
Post-Launch Shuttle Engineering Imagery Reviews - Participant
NASA Imagery Working Groups - Contributor
High Speed Digital Camera Technology Reviews - Lead
Shuttle Infrared Imaging Requirement - Contributor
NASA Debris Summit - Contributor

Experimental Imaging Examples

High Speed Digital Imaging
Conducted tests of high speed digital (HSD) camera systems, including field tests and bench tests supporting HSD Camera Technology Reviews. Reviews were designed to assess the state-of-the-shelf of the HSD industry. Evaluated each camera's ability to operate in the launch environment, to provide an accurate time-stamp, and to provide imagery of value to the engineering analyst.



Film and High Speed Digital Imaging ...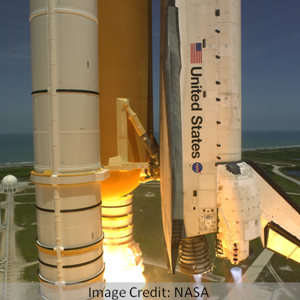 Back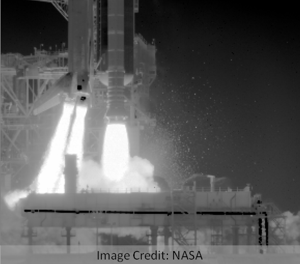 Back
Infrared Imaging
Planned and directed numerous experiments to evaluate infrared (IR) cameras as tools for engineering analysis of Space Shuttle launches. Evaluated cameras sensitive to a variety of infrared spectral regions. Infrared imaging systems were evaluated for engineering analysis of Shuttle launches and for monitoring pre-launch fueling activities. Results of these imaging experiments led to the establishment of an IR imaging requirement for Shuttle launches.

Developed a timing accuracy bench test for IR cameras. Conducted timing tests on IR cameras being considered for use during Shuttle launches. Reported timing test results to the cameras' vendors, enabling deficiencies to be addressed.



Visible and Infrared Imaging ...





Stereoscopic 3D Imaging
Planned, coordinated, and directed stereoscopic 3D imaging experiments during the Ares 1X launch, the Falcon 9 COTS 1 launch, and numerous Shuttle launches. Stereo-3D imagery that exaggerates depth perception offers potential benefits for analysis of launch debris. The experiments were conducted to evaluate procedures for producing exaggerated stereo-3D imagery and to assess the effectiveness of those procedures. In addition, the experiments served as the setting to investigate the various technologies needed to plan for, acquire, transmit, record, process, display, and view stereoscopic 3D imagery.

Note: Red/cyan anaglyph eyewear is needed to view the image at right in stereo-3D.



Stereoscopic 3D Imaging ...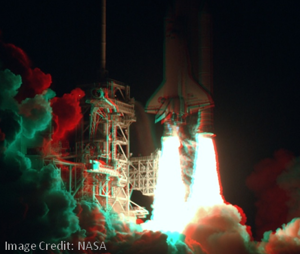 Back